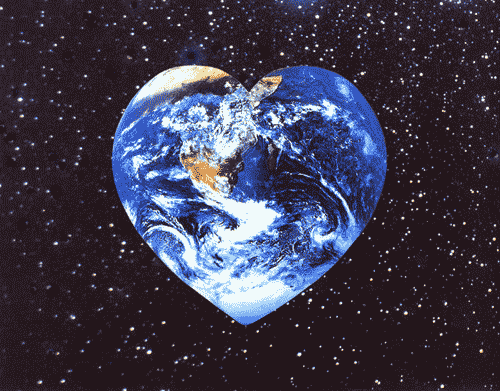 A couple of years ago, I had a revelation – I saw that the reason Jesus said to "do unto others as you would have them do unto you" is because WE ARE ONE - we are all part of one another. We are a many-membered body, and a man does not want to hurt his own body! Right there alongside the Golden Rule is "what ye measure out, it shall be measured again unto you." So if I try to hurt others, oppress others, gain from others, then I hurt myself, oppress myself, cause myself loss.
With my Baptist background, this was a totally new and very radical thought to me. But by this time I had grown used to the fact that God is a pretty radical God, so I began looking in Scripture for confirmation. And of course it is there in bountiful measure even though I had not been able to see it until my eyes were opened to it. First of all, "the Lord our God is ONE Lord" (Duet 6:4). One means "that which is united as one in contrast to separate parts" (Dictionary of Biblical Languages). And unity means "the quality or state of not being multiple" (Mer. Web. Online Dictionary).
The body of Christ is a many-membered body (1Corin. 12:4-27, Eph. 4:25). "We, being many, are one body in Christ, and every one members one of another" (Rom. 12:5) There should be no schism in the body, but the members should have the same care for one another (1 Corin. 12:25). And whether one member suffer, all the members suffer with it, or one member be honored, all the members rejoice with it (vs. 26). Yes, there are diversities (1 Corin. 12: 4-5) but it is all the same Spirit that is given to every man (vs. 7). So, who is my fellow member of the body of Christ? When we ask that, it's like asking, "Who is my neighbor?" and Jesus' answer to that was a Samaritan, a person considered to be totally excluded from the Kingdom of God. WOW! - my neighbor (whoever he/she is!) is part of the same body of Christ that I am! We are to love our neighbor as ourselves because our neighbor IS a part of ourselves! And when I harm my neighbor, it is harming myself, for my neighbor is part of me. My neighbor may not understand this yet, and may harm me – not realizing that when he does so he injures himself. We are all united – all ONE.


This means that we are to love one another as we would love our self. No one hates his own flesh! And we suffer as long as we keep harming others, because what we are doing in actuality is harming our own selves. When we have hatred, bitterness, and resentment toward others, we will reap that in our own lives and be filled with sorrows until we learn that what we intend for others will come back to us. Until we learn this, we will suffer. And this is the lesson that suffering is intended to teach.
One more insight, for now:
"…seeing that ye have put off the old man with his deeds; And have put on the new man, which is renewed in knowledge after the image of him that created him: Where there is neither Greek nor Jew, circumcision nor uncircumcision, Barbarian, Scythian, bond nor free: but Christ is all, and in all" (Col 3:9-11).
Previously, I looked at these verses as meaning that when "they" all come into Christ, there will be no more divisions. Now I have seen that it is when "I" shed the old man (a.k.a. carnal mind, ego) and come into renewed knowledge, this is a place where "I" see there ARE no divisions – only unity in diversity. Where I can look with renewed perspective and see there is no Barbarian, Scythian, Buddhist, Hindu, etc. but that Christ IS all and is IN ALL.
The ramifications of these insights are enormous and have led me many new places, which I hope to write more about if I can even find words to express the wonder of it. Although mine has been a journey into a greater knowledge of the Love of God, many will view it as a journey from orthodoxy into heresy. So be it. The journey is scary, but onward I must go. The Lord has torn down my reliance on many commonly-held views and continued to abolish so many traditional assumptions of truth in my life until I felt I stood all alone. Now, my circle of inclusiveness has been expanded into yet another new place. A large place that includes all and where I can love all because they are just on a different place on this journey; a place where I can let others be free to be where they are, yet not allow them to tie me in any one place, for I am free to follow. I must follow, or I will die – for to follow is Life itself.
O! Give us grace, Lord, to love one another…
"That they may be one, as thou, Father, art in me, and I in thee, that they may be one in us...I in them, and thou in me, that they may be made perfect in one"
(John 17:21,23)